"The light that burns twice as bright, burns half as long. And The King burned so very, very brightly.
Perhaps for Elvis, it was better to burn out, than it was to rust."
Sweet Dreams Elvis - You are missed; you were loved.
RayElvis & Vegas Showgirls
Having Fun with Vegas Showgirls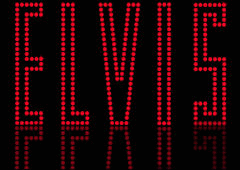 Hi everyone! My name is Ray Hastings and this is my Tribute to Elvis Presley. My website is for entertaining purposes only and in no way am I trying to tarnish the legacy that Elvis left behind. I take pride singing his songs and I do it to the best of my ability. I am not going to make any claims that I am the best in the city,the state or even the country. I see so many ETA's that make that claim and they all can't be the best so all I know is how to entertain people with my God given talent and make them relive the memories of the music that Elvis Presley made so popular.
To me,Elvis has been one of the most influential people in my life as a musician. He is also probably the best Entertainer of the 20th and the 21st century! I may be a bit biased in making that statement but there are quite a few people that would agree with me and back up my claim.
Gigsalad Reviews for
RayElvis



We hired RayElvis to sing at our Assisted Living Facility last Friday. He was early to set up and he put on a TERRIFIC show!!! Our residents loved him!!! He was very relaxed and personable. Ray was such an entertainer. We will definitely use him again in the future.

Kathryn M, Jourdanton, TX
Private Party on 09/12/2014

-----------------------------------------------------------
Elvis is in the Building!



We hired Ray for a very special Birthday party for a very Dear friend. His arrival was very punctual. Having Ray there was a surprise birthday gift from my wife and myself. The Birthday Girl and all of her guest are huge Elvis fans, some having seen The King 3 to 4 times when he was alive. Needless to say they where so excited when Ray walked in fully decked out in his Elvis attire. All in attendance were so impressed with Ray's renditions and performance of some of their favorite Elvis songs.It is only fare to say Ray Elvis is not an Elvis impersonator but an Elvis tribute artist. With all the attention to detail that Ray puts forth in his appearance, vocal quality and knowledge of the King of Rock & Roll, I can tell you he is a must hire for any event featuring Elvis. After Elvis had "Left the Building" all the party goers could do was reminisce of their own favorite Elvis songs and memories of The King. Great job Ray Elvis.


Edwin Mickelson
Private Party 09/26/2014
-----------------------------------------------------------
Ray Elvis--"Exceeded my expectations--simply outstanding"!

I booked Ray Hastings as an Elvis tribute artist to perform at my mother's 80th birthday celebration. He showed up on time, was dressed impeccably like Elvis, and "the king" would have been proud of his singing! He focused all his attention on my mother, was very personable, and even took the time for photos with family members after the performance. He exceeded our expectations, and I would happily recommend him, without hesitation, to anyone seeking a great Elvis tribute artist!

Private Party by Steven DaLuz 10/11/2014
-----------------------------------------------------------
This is the S.A.Current link for the article about Ray Hastings! March 8,2008

Here is The Express News video link about me!